A Portrait of George Maciunas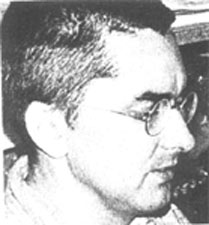 Jeffrey Perkins is working on a new documentary and needs assistance transcribing interviews:
If you're interested, please contact Jeffrey at  jeffreyperkins@aol.com
George is a documentary on the late George Maciunas. An enigmatic and mythic figure, Maciunas was born in Lithuania, in the midst of WWII. Immigrating to the United States in 1948, he studied graphic design at Cooper Union, architecture at the Carnegie Institute of Technology and art history at New York University's Institute of Fine Arts. His broad range of interests and universal approach to learning required appropriate forms of knowledge management so as to keep stock of his wide-ranging material. While at NYU, he began making his famous "learning machines", outlining the history of art. These charts are intricate and informational masterpieces, organizing topics ranging from the history of the USSR, to a chronology of FLUXUS. This graphic, systematic, and methodical practice defines the approach George took towards life and FLUX life.
A professional revolutionary, Maciunas eventually spearheaded FLUXUS, one of the most radical artistic practices of the 1960's. FLUXUS was soon wildly discussed after its conception in the early 1960's, as a result of the Weisbaden, Dusseldorf, Cologne, and Paris concerts. These helter skelter multimedia compositions were breakthrough events, demonstratively establishing invigorating new ideas and approaches to making and doing art. The FLUXUS movement continues to inform the cultural and philosophical milieu of the Twenty-First Century.
The FLUXUS influence spread quickly to Japan and back to New York, affecting contemporary art and film theory. In sync with his ideas on cooperative living and art making, Maciunas's next great project was to realize his fantasy in the lofts of Soho, New York City. Establishing the first artist run cooperative loft buildings between 1966 and 1977, which  stand as a creative monument and testimate to his efforts and ideals.
The film will follow the dynamic movements and events of FLUXUS and George Maciunas with archival film and video, rare photographs, and current interviews with FLUXUS members and outcasts.