Race in the United States: Fraught Crossroads
WEDNESDAY, OCTOBER 11, 2017 AT 6:00 PM to 7:30 PM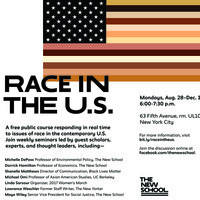 Guest Speaker: Lawrence Weschler, former staff writer at The New Yorker, where his work shuttled between political tragedies and cultural comedies. Two-time winner of the George Polk Awards — for Cultural Reporting in 1988 and Magazine Reporting in 1992 — and recipient of the Lannan Literary Award (1998)
The terrible intersection where race, class, sex and violence keep colliding across American History (and who gets to address it) (with special reference to the controversial cases of Ed Kienholz and Dana Schutz)
"Race in the USA" is The New School's second University free public course on post-election America, and is sponsored by the Provost's Office and the 2017 Henry Cohen Lecture Series of The Milano School of International Affairs, Management and Urban Policy.
If you can't make it to our NYC campus, watch + engage live with each week's lecture on Facebook or Livestream. Follow the conversation on social media.
For questions and reservations, please write to postelection@newschool.edu. View the full list of lectures in the Race in the U.S. Lecture Series here.