Random House Presents: Off the Page
Off The Page
THURSDAY, NOVEMBER 9, 2017 AT 9:00 AM to 5:30 PM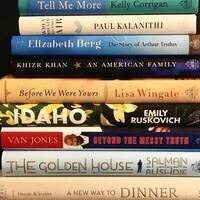 Random House Special Events Off the Page presents authors in thought-provoking conversation, exclusive access to the hottest books, tips for the holidays, and a chance to connect with other avid readers throughout a day of dynamic programming.
Literary icon Salman Rushdie discusses his new novel, THE GOLDEN HOUSE; bestselling memoirist Kelly Corrigan (The Middle Place; Glitter & Glue) explores twelve phrases that can make us better people; CNN commentator Van Jones proposes ways to find your voice in today's cluttered political climate; Food52 co-founders Amanda Hesser and Merrill Stubbs offer advice about staying balanced and managing your time during the holidays; Lucy Kalanithi, widow of author Paul Kalanithi, shares how readers have connected to her husband's posthumous #1 bestseller WHEN BREATH BECOMES AIR; and Gold Star parent and captivating DNC speaker Khizr Khanexplains what it means to him to be an American alongside stories from his forthcoming memoir, AN AMERICAN FAMILY. Plus, discover your next read (or three!) at our fiction lovers panel featuring novelists Elizabeth Berg, Emily Ruskovich, and Lisa Wingate.
NEW SCHOOL COMMUNITY: Use promo code NEWPAGE for free admission. Limited tickets available.
Programming Only Ticket – $90.00
Reserved Seating
Full day of programming
Random House canvas tote bag filled with books and goodies (valued at $175)
Advance Reader's Editions
Coffee and light breakfast
Jointly Co-Sponsored by The New School's Creative Writing Program & Lang Literary Studies Department.