Events this week at The Center for the Humanities, CUNY May 20 – 24
EVENTS & OPPORTUNITIES THIS WEEK
Please join the Center for the Humanities for an exciting week of events which are free and open to the public at the Graduate Center, CUNY. We are also currently circulating our Call for CUNY Faculty Applications to participate in the Seminar on Public Engagement and Collaborative Research, a two-year public humanities initiative generously funded by the Andrew W. Mellon Foundation. Visit our website and see below for more information about these events and opportunities, and we hope to see you this week!
Science Gallery London.
Next Generation: Public Science
Mon, May 20, 6:30 PM | Rooms 9204/9205
Daniel Glaser, Meredith Smith
How might today's scientists and social scientists best share their research interests with an eager and diverse public? Join us for a conversation with neuroscientist Daniel Glaser and Meredith Smith (Coordinator of the Science Studios at Pioneer Works) to examine what interdisciplinary collaboration, particularly between art and science, might uniquely have to offer.
Click here to RSVP and for more information about this discussion.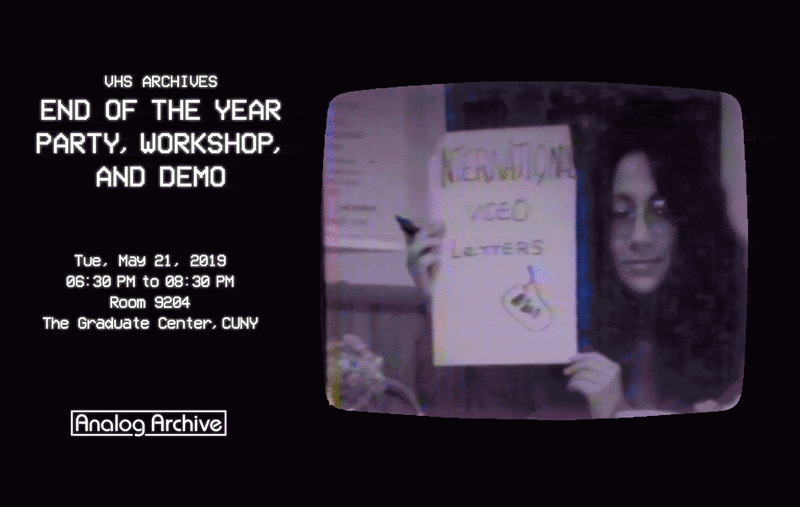 VHS Archives Working Group GIF by Partner & Partners.
VHS Archives: End of the Year Party, Workshop, and Demo
Tue, May 21, 6:30 PM | Room 9204
Join VHS Archives working group for an "End of the Year Party, Workshop & Demo" which will be a public unveiling & participatory party to demo a new Analog Archive tool on 70s feminist and 90s queer videos. Bring your own related ephemera to contribute to the VHS Archive working group's paper/online archive.
Click here for more information about this party, workshop and demo event with VHS Archives working group.
From the fall 'Listening With Radical Empathy' gathering, Dec. 2018.
Extending Radical Empathy: A Listening Party and Book Launch!
Thu, May 23, 6:30 PM | Martin E. Segal Theatre
Bridget Bartolini, Brittany Lauren Brock, Aspen Christian, Crystal Des-Ogugua, Yvette Ramirez, Rebecca Swann-Jackson, Cievel Xicohtencatl, and Rebecca Amato, Gabrielle Bendiner-Viani, Molly Garfinkel, Allison Guess, Walis Johnson, Prithi Kanakamedala, Samip Mallick, Hatuey Ramos-Fermin, Maggie Schreiner, Shawn(ta) Smith-Cruz, Sady Sullivan
Join us for a double party! Our Listening Party is an experimental, collaborative celebration of a semester-long workshop series, led by Sady Sullivan, that brought together artists and scholars from The Laundromat Project fam and the CUNY community. We are also launching The City Amplified: Oral Histories and Radical Archives (edited by Allison Guess & Prithi Kanakamedala), a collection of 10 commissioned essays from radical practitioners in the field today.
Click here to RSVP and for more information about this oral history listening party and book launch.